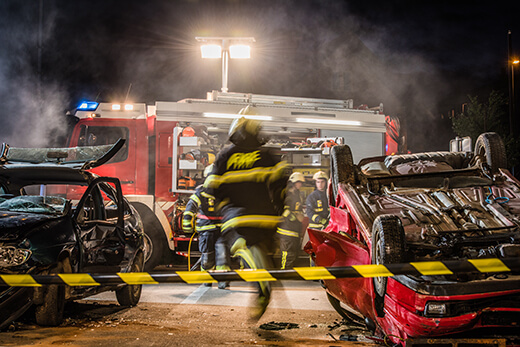 A catastrophic injury is one where a person suffers a permanent and severe functional disability, a serious impact to one or more bodily systems, damage to one's head, neck or spinal cord, an impairment to one's ability to work and enjoy their regular activities, or results in death. Catastrophic injuries have a profound impact on an individual's quality of life and ability to perform daily living activities. Treatment is time-consuming, expensive, and long-lasting.
Did another person's negligence or reckless behavior cause you to suffer a catastrophic injury? You need an attorney that will fight for you until you obtain the justice you deserve. Justice is obtained through the award of monetary compensation, by holding negligent actors accountable for their harmful actions or omissions and by educating those negligent actors through the claims/litigation process so that they don't repeat these same mistakes in the future and harm others. At JPD Injury Law, Joseph P. Discepola personally handles every aspect of his client's cases to ensure optimal results.
Common Catastrophic Injuries
Some of the most commonly seen catastrophic injuries include:
Traumatic Brain Injuries (TBIs): When a person's head is struck or moved so that the normal functions of the brain are impaired, a traumatic brain injury has occurred. According to the Centers for Disease Control (CDC), approximately 80,000 to 90,000 people experience the onset of long-term disabilities associated with TBIs every year.
Spinal Cord Injuries: Injuries to the spinal cord can cause permanent damage to the parts of the body located below where the spinal cord injury takes place. The damage can include paralysis or varying degrees of loss of sensation and movement. The extent of the damage depends upon the location and severity of the spinal cord injury.
Fractures: Broken bones that need to be reset or fixated through surgical intervention, followed by physical therapy or occupational therapy.
Joint Damage: Torn tendons or ligaments as a result of falls or other accidents that cause excessive force to the knee, ankle, shoulder, wrist, etc.
Organ Damage: Internal organs can suffer significant damage in high-impact blunt trauma accidents, such as car crashes. Organ damage also occurs in penetrating trauma cases, which can occur in many different scenarios, including gunshot and knife wounds.
Limb Loss: Accidental amputation of a limb is considered a catastrophic injury. Two million people live with limb loss in the United States and 45% of limb loss is caused by trauma. Traffic and workplace accidents are two places where accidental limb loss tends to occur. Agricultural accidents, such as those involving a lawn mower, are also a leading cause of accidental amputations.
Burns: Severe third-degree burns (also known as full thickness burns) extend through all skin and tissue layers and into the muscle. Treatment may include skin grafts and the scars left by these burns are usually white and leathery in texture.
---
Common Causes of Catastrophic Injuries
There are a multitude of ways that catastrophic injuries can occur. Some of the most common include:
Motor Vehicle Accidents (Cars, Motorcycles, Trucks, and Boats)

Contact JPD Injury Law Today
for a Free Consultation
If you or a loved one has been the victim of , contact attorney Joseph P. Discepola, a litigator with the skill and experience to provide adept representation that results in his clients receiving the results they deserve. Contact JPD Injury Law today for a free, no-obligation initial consultation.