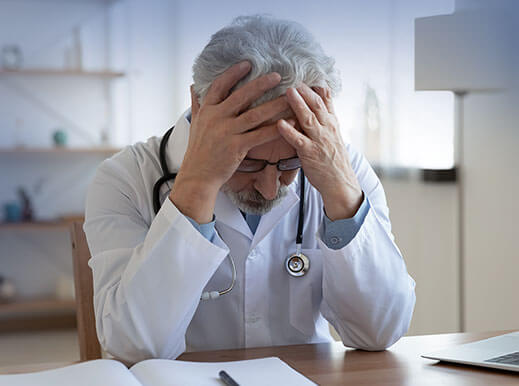 When a medical professional deviates from their professional standard of care and is negligent or improper in treating a patient, they have likely committed medical malpractice. As surprising as it may be, medical malpractice is not that rare. Medical errors or mistakes cause ten percent of deaths in the United States.
At JPD Injury Law, our medical malpractice lawyer understands how devastating it can be when your medical provider betrays your trust. Our medical malpractice attorney provides our clients with an injury due to medical malpractice with top-tier, results-driven representation.
Common Types of Medical Malpractice
There are numerous scenarios where medical malpractice can occur. Some types of mistakes or negligence are more common than others; these include:
Misdiagnosis & Failure to Diagnose: When a medical professional fails to diagnose a patient with the proper disease or illness correctly, the results can be disastrous. For example, if a doctor misdiagnoses breast cancer as a cyst, the patient loses critical time receiving the proper treatment. These delays in treatment often cause patients to suffer catastrophic consequences
Birth Injuries: Birth injuries such as brachial palsy or hypoxia can result when a medical professional fails to provide the appropriate level of care to the mother or baby during pregnancy or delivery. Such injuries can negatively affect the baby's development and trajectory in life.
Failure to Monitor: Medical professionals are required to monitor their patients' well-being as well as the actions of nurses and other staff that work under their authority. Failure to do either of these can result in the patient suffering irreversible harm.
Anesthesia Errors: Anesthesia is administered before many procedures so that the patient will not be aware or experience any pain while the procedure is happening. When too little anesthesia is administered, a patient may be aware and feel the pain from the procedure but not have the ability to react. When too much anesthesia is administered, the patient may be hard to wake and possibly suffer brain damage.
Medication Errors: Medication errors can occur when a medical professional prescribes the incorrect medication or the correct medication but in an incorrect amount. Another commonly seen medication error occurs when the medical professional fails to ascertain if the patient has any allergies or is currently taking another medication that will not react well with their prescribed medicine.
Surgical Errors: Surgical errors are among the most easily identifiable types of medical malpractice. Examples include operating on the wrong organ or amputating the wrong limb.
Hospital Malpractice: In some cases, a medical malpractice victim may be able to sue the hospital where the medical malpractice occurred. This is an issue best addressed by your medical malpractice attorney.

Contact JPD Injury Law Today
for a Free Consultation
If you or a loved one has been the victim of , contact attorney Joseph P. Discepola, a litigator with the skill and experience to provide adept representation that results in his clients receiving the results they deserve. Contact JPD Injury Law today for a free, no-obligation initial consultation.