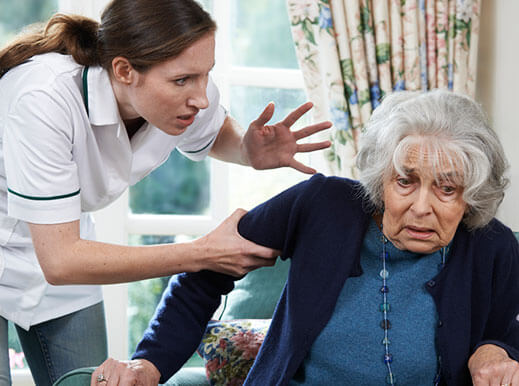 In an ideal world, the elderly would be allowed to grow old with respect, grace, and dignity. Unfortunately, the real world often does not always live up to this standard. At JPD Injury Law, PLLC, our nursing home abuse lawyer did not decide to place your loved one in a nursing home facility lightly.
We understand the betrayal you feel when the place you trusted to care for your loved one failed to provide them with the care that they needed. At JPD Injury Law, Joseph P. Discepola, Esq. will fight to ensure that the parties responsible for the abuse and neglect of your loved one are held accountable, and your loved one receives compensation that is fair and just.
Abuse vs. Neglect: What's the Difference?
Although they may occur simultaneously, there are differences between nursing home abuse and nursing home neglect.
Nursing Home Neglect: Nursing home neglect occurs when the nursing home staff fails to provide the degree of care that would be expected of someone in their position. This results in the patient not having their basic needs met and may result in pain and loss of freedom. Neglect does not have to be intentional and it may even be caused by the nursing home being short-staffed. Oftentimes, neglect is the failure to act when action is needed.
Nursing Home Abuse: Nursing home abuse differs from nursing home neglect in that it is intentional. It can be physical, sexual, or emotional and it results in harm to the elderly person. The elderly are often victims of financial abuse as well. A caregiver may misappropriate funds, forge the eldery person's signature to gain access to their money, or pressure the elderly person to give them funds and/or possessions.
---
How can I tell if a loved one is being abused
or neglected?
Your loved one may not be physically able to tell you that they are suffering at the hands of their caregivers. Even if they are able to tell you, they may refrain from doing so due to embarrassment or fear of retaliation. The following are signs that something may be wrong and further investigation needed:
Bed sores, wounds and/or skin breakdown
Infections and/or septic shock
Signs of restraint on wrists, arms, or legs
Unexpected or unexplained decompensation and deterioration
Unusual personality changes, such as becoming withdrawn
Fall related injuries
Unkempt appearance and lack of proper hygiene
Unexplained bruises, welts, or scarring
Dehydration/Malnutrition and Weight loss
Unsanitary living conditions
Refusal by caregiver to allow you to be alone with your loved one
Missing money or other valuables
Your loved one seems afraid to speak to you in the presence of the caregiver

Contact JPD Injury Law Today
for a Free Consultation
If you or a loved one has been the victim of , contact attorney Joseph P. Discepola, a litigator with the skill and experience to provide adept representation that results in his clients receiving the results they deserve. Contact JPD Injury Law today for a free, no-obligation initial consultation.