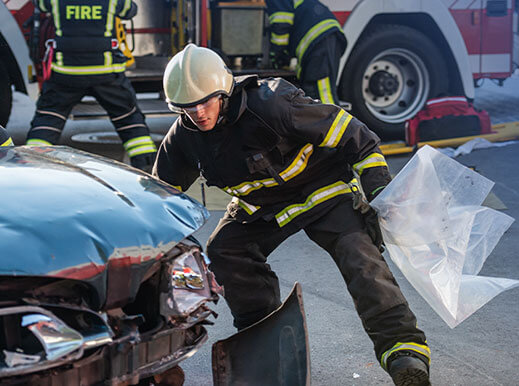 In 2018, there were 403,626 motor vehicle accidents on Florida roadways. At JPD Injury Law, PLLC, our motor vehicle accident attorneys are aware of the disruption these accidents can have on your life and make it our goal to alleviate the stress surrounding the process of obtaining the compensation you deserve.
Joseph P. Discepola personally handles every client's case to ensure optimal results. We are proud of our ability to provide our clients with a sympathetic ear and vigorous representation that they can depend on.
Common Causes of Car Accidents
Distracted Driving: There are many forms of distracted driving, such as texting or changing radio stations while behind the wheel. These practices cause a driver to take their eyes off the road and lead to accidents.
Speeding: Exceeding the posted speed limit is always dangerous. The faster a motor vehicle is traveling, the more time it takes to come to a full stop when needed. In addition, the greater the velocity, the greater the impact and forces imparted upon the passengers.
Driving Under the Influence: Alcohol and/or drug consumption can inhibit a driver's ability to think and reason clearly and can also impair one's reaction time.
Inclement Weather Conditions: Inclement weather such as rain and wind can cause loss of vehicle control and hydroplaning.
Aggressive/Reckless Driving: Aggressive and reckless driving such as frequently changing lanes and pulling out in front of other motor vehicles can easily cause an accident.
Failure to Stop: When a motor vehicle runs a red light or stop sign, the chances of being involved in an accident increase substantially.
Design Defects: We've all heard of motor vehicle recalls. This is because, even with careful planning and testing, design defects do occur. Sometimes these defects can lead to accidents.
Road Hazards: Certain road hazards, such as potholes and roadkill, can cause vehicles to flip and the driver lose control.
Tailgating: Tailgating is when one motor vehicle follows very closely behind a second motor vehicle, not leaving enough room to quickly stop should the need arise.
Fatigue: Driving while tired is a dangerous practice and can cause an accident.
---
How Attorney Joseph P. Discepola Can Help
After an Accident
When you have been involved in a motor vehicle accident, it is important that you immediately seek competent and effective legal counsel so that you can put yourself in the best position to obtain appropriate medical care, preserve any and all evidence as to how the accident happened, protect your interests, and prosecute your injury claim. Attorney Joseph P. Discepola will guide you through the entire process:
Provide a no-cost initial consultation
Conduct a thorough case review
Determine who is liable for your accident
Obtain documentation necessary to prove liability
Organize medical records and bills
Determine the value of your claim
Prepare and submit your demand for compensation to the insurance company
Communicate and negotiate with the insurance company representatives and attorneys
Return phone calls and emails within 24 hours
Utilize state of the art technology
File a lawsuit when necessary and litigate your case
Keep you apprised of the status of your case
Prosecute the case at trial and obtain a verdict

Contact JPD Injury Law Today
for a Free Consultation
If you or a loved one has been the victim of , contact attorney Joseph P. Discepola, a litigator with the skill and experience to provide adept representation that results in his clients receiving the results they deserve. Contact JPD Injury Law today for a free, no-obligation initial consultation.