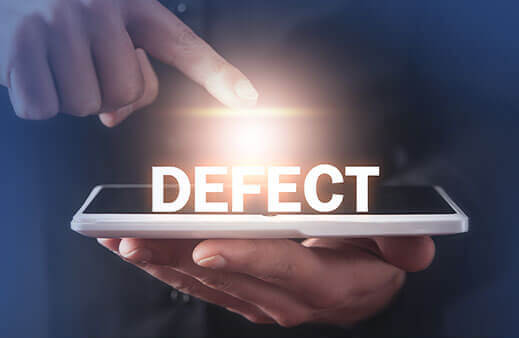 Consumers expect that the products they purchase will be reliable and free of harmful defects. Unfortunately, this is not always the case. Product defects such as manufacturing defects, design defects, and failure to warn or instruct can cause catastrophic injury to unsuspecting consumers.
At JPD Injury Law, PLLC, attorney Joseph P. Discepola understands the laws and regulations surrounding injuries caused by defective products and provides his clients with top-tier representation that culminates in their receiving the compensation they deserve.
Manufacturing Defects
A manufacturing defect is a defect that occurs during the production of the item in question. The flaw is not part of the item's design. Manufacturing defects can occur in a small percentage of the items produced or occur in all of the produced items.
To recover compensation for a manufacturing defect claim, the plaintiff must prove that the defect existed when the item was produced.
Examples of Manufacturing Defects
Attaching the properly designed parts of an item in an incorrect way
Incorrect installation of electrical wires in an electrical tool
Tire tread separation
---
Design Defects
A design defect is a defect that occurs in the plans for an item. In other words, even if the item is produced as specified by the design, it will still be flawed. When an item is defectively designed, all the items that are produced will be defective.
The key to recovering under a claim of defective design rests upon the plaintiff's ability to prove that the injury they sustained was due to the design flaw and not due to their improper use of the item.
Examples of Design Defects
A car that is designed in such a way that it easily flip when making sharp turns
A toy for a small child that contains tiny parts that are easily swallowed
A balcony with bars that are spaced far enough apart for a child to fit through
---
Failure to Warn or Instruct
Even if a product is designed and manufactured properly, there may still be a defect if the product fails to have clear, concise instructions and warnings. Sometimes the manufacturer fails to include any type of instructions or warnings. These types of errors and omissions can cause a consumer to improperly install or use a product resulting in injury.
Examples of Failure To Warn or Instruct Defects
A medication that does not contain a warning that it cannot be taken with other types of medicines or death may occur
A cleaning product that fails to warn that it contains toxic chemicals
A medical device that can only be used in a specific way but contains no instructions

Contact JPD Injury Law Today
for a Free Consultation
If you or a loved one has been the victim of , contact attorney Joseph P. Discepola, a litigator with the skill and experience to provide adept representation that results in his clients receiving the results they deserve. Contact JPD Injury Law today for a free, no-obligation initial consultation.